A functional tool for Ostrich farmers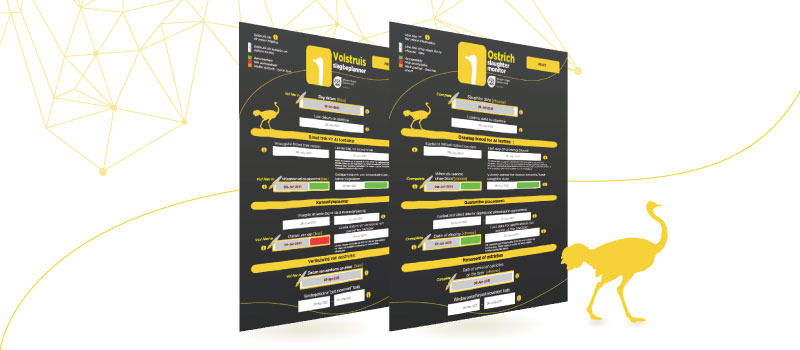 Your one-stop slaughter planner
This planner calculates all the required dates that an ostrich farmer needs for movement and slaughter of ostriches. You just specify the date you want to slaughter and the planner tells you the rest. The planner is based in a PDF and uses JavaScript to calculate the dates you require. It can be used on a smartphone or computer.

This document is free and available for download in English and Afrikaans.

Please note that it is recommended that Adobe PDF viewer be used to open his document, and not your browser, as some browsers do not support smart features.
Disclaimer
The Department and its employees do not assume nor accept any responsibility or liability (including due to negligence) for any loss or damage arising directly or indirectly from the use of the Ostrich Slaughter Planner or any third party who relies on the planner, do so entirely at his / her / its own risk.
To download file to you computer please follow these instructions:
Right–click (control-click, hold on mobile) on the button.
Choose "Save Link As"
Choose the folder location on your computer to save the file.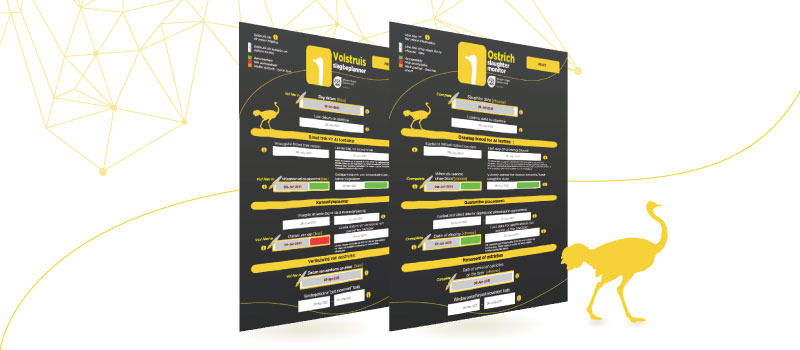 Maak volstruisbeplanning maklik
Hierdie beplanner werk al die nodige datums uit wat 'n volstruisprodusent nodig het vir die skuif en slag van volstruise. Jy vul bloot die beplande of bespreekte slagdatum in en die beplanner werk die res vir jou uit.

Die beplanner is gebaseer in PDF formaat en gebruik "JavaScript" om die datums uit werk wat jy nodig het vir jou beplanning. Dit kan op 'n slimfoon of rekenaar gebruik word en is gratis beskikbaar vir aflaai in Afrikaans of Engels.

Let daaop dat die dokument met "Adobe PDF viewer" oopgemaak moet word, en nie deur jou "browser" nie, aangesien sommige "browsers" nie slimfunksies ondersteun nie
Vrywaring
Die Departement en sy werknemers aanvaar geen verantwoordelikheid of aanspreeklikheid (insluitend as gevolg van nalatigheid) vir enige verlies of skade wat direk of indirek voortvloei uit die gebruik van die Volstruis-slagbeplanner of enige derde party wat op die slagbeplanner staatmaak, doen dit ten volle op sy / haar / hulle eie risiko.
Volg hierdie instruksies om die lêer na u rekenaar af te laai:
Klik met die regtermuisknop (beheer-klik, hou vas op die selfoon) op die knoppie.
Kies "Save Link As"
Kies die lêergids op u rekenaar om die lêer te stoor.